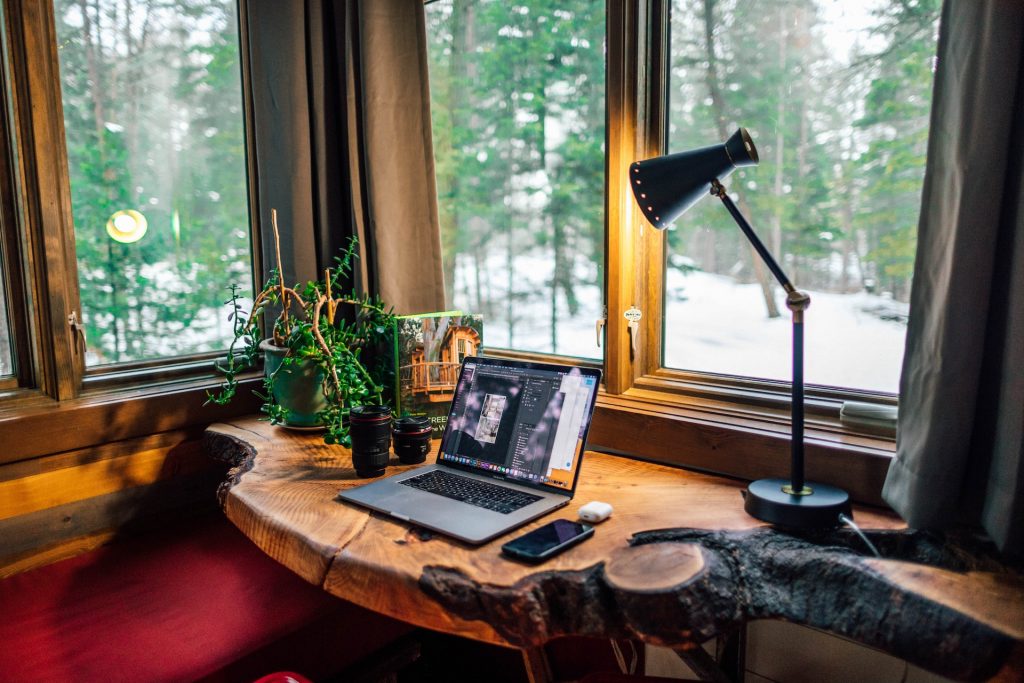 Online classes, distance studies, and lots of homework – having a place where you can focus and work on your assignments is crucial. A designated place like a separate room is not always possible, unfortunately. However, there are a few things that you can do to create yourself a perfect home office. We also know that college students often live on a tight budget, so we came up with tips that will let you not break the bank.
Mind Your Needs
Before you start any project, you must set a clear goal. In this case, it is important to understand your needs and how exactly you will be using your home office. For example, if you need a place for drawing or placing a whiteboard, you will surely want to have more space available rather than for a simple office desk.
Your needs regarding studying and working should come first, even if you know that it will not look as pretty as you imagined it at first. Be sure to plan where the main studying area will be and what furniture you need for it – a desk, a chair, a bookcase, specific equipment required, etc.
If you get to choose the space or a room for your home office, be sure to plan the layout beforehand to understand the perfect fit for your needs.
Select the Location
The perfect location for your home office is not always easy to find. It might seem like you have no choice, especially when you are living in a dorm room.  However, even a dorm room might have a different layout. Chances are the current one is not perfect.
So, pick the right spot where the natural lighting is fine and where you can achieve the needed privacy for focus and concentration. It doesn't have to be a dedicated room, as a separate space will do. For example, a corner that you can use for this purpose.
Organize
Before you can set up your workspace, you need to declutter and prepare the spot. If you have some furniture in there that you need to move or some clutter in the designated room, be sure to take care of it first. You might also need to organize your study materials to ensure everything is in the right order. You will also be able to see how much space you need for the study process, for example, how much space your textbooks will take or something like that.
Organizing and decluttering help a lot in keeping your home office functional and convenient, as well as allowing you to stay focused on your studies.
Save Money on a Desk
When it comes to furniture, there are definitely items that you can and should save on. For example, a home office desk can be definitely thrifted. Visit local garage sales or ads from recent graduates who are selling their furniture.
While a desk is critical for a proper home office, you can save money on it by thrifting or repurposing a table that you can find. Surely, there are many great options for home offices, like tables with adjustable height or with built-in lighting. However, if you have a tight budget, we would suggest not buying a new desk from the store as other things matter more.
Invest in a High-Quality Chair
On the other hand, a piece of furniture that you definitely should not save on is a chair. A proper chair of high quality will let you have long study sessions without any back pain and also feel comfortable and focused on your studies.
Cheap chairs often break or squeak, which is surely annoying. They are also bad for your posture as they don't provide the needed support for your back. What you should pay attention to when picking the chair is the materials that it is made from. Cheap plastic and cheap faux leather that will break with time can be spotted right away. A second-hand chair is also an option if you can find a good deal.
Organize Cables
When you have a lot of various gadgets, appliances, and devices, cable management should not be neglected. It is a key step to having a perfectly organized home office. What you might try is to tie cables together or separately into neat categories, mark them with labels, or put your cables into a box. You can repurpose an old shoe box for that and create a neat zone under your desk, free from cable clutter.
You can also order some cable accessories online, such as cable handlers, cable ties, or organizers that will help you make the space clean. Be sure to check your adapters and cable sockets occasionally, as they might become dangerous in case of damage.
Set Up Good Lighting
Lighting is crucial for long study or work hours. When the space lacks light, you might feel sleepy, distracted, unfocused, or even completely unable to think properly. Lighting in the work/study areas should be bright enough, neutral, and steady. If you need some extra lighting for your home office, you can check online shops or garage sales for a table lamp. Lamps with dimmers and adjustable colors are the most popular right now, as they provide a wide specter of lighting options.
It's perfect if you can place your desk near a window as natural light is the best for your eyes. Don't rely on fairy lights – they don't produce enough light, though they look very good for home office aesthetics.
Give DIY Solutions a Chance
Sometimes, you don't need much to create a functional and comfortable home office. DIY solutions for storage or repurposing old furniture can really make a change. You can, for example, make your own organizers or storage items using old boxes, shelves, cardboard, etc. Be creative – you can find a lot of ideas and DIY tutorials online, for example, on Pinterest. You can also use Pinterest boards to gather images of the home offices that you like and get an understanding of the mood and final look that you want to achieve.
Decorate
When you have all the furniture placed and all your study materials, textbooks, cords, and stationery organized, you can get to the final step – decorating. Decorations can truly change the whole picture as it allows you to add a personal touch and make the home office a cozy and motivational space.
The look of your home office might not be perfect, but it is great as long as it suits your needs and motivates you to sit there and study. Add some posters on the wall or framed photographs, lights, plants, and decorations; throw a cozy rug or a pillow on a chair – and here you have a wonderfully set home office.
Conclusion
Set up your home office easily, even if you live in a dorm, with these easy tips. By having a designated place for studying and creating a perfect spot that you enjoy, you can boost your motivation and productivity, so make sure to work on a space to your liking.